gasketed plate heat exchangers

Gasketed Plate Exchanger Solutions:
Manufacturer: SONDEX, Inc.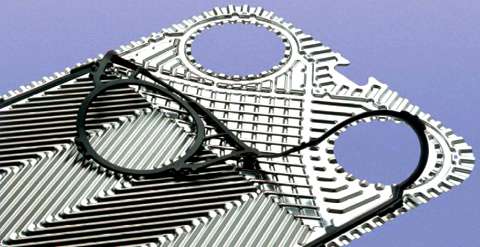 Plate Design - The inlet section is supplied with grooves preventing "dead spots", and also securing a strong inlet with a minimum of contact points. The plate pattern is constructed to obtain a high thermal efficiency. The pattern is available in two designs with different angle sizes for a range of turbulent flows. These are combined into a plate pack based on a calculated composition.
Edge Reinforcement - For a stronger gasket groove, SONDEX "Sonder Flex Line" plates are fabricated with deep, steep-edged grooves giving a perfect hold of the gasket, resulting in long durability for both the gaskets and the plates.
Gasket - The new generation of SONDEX plate heat exchangers incorporate the glueless "Sonder Lock" gasket, affixed with strong rubber buttons to firmly seat the gasket in the groove.
At SONDEX, along with our traditional plate heat exchangers, the product range includes copper brazed, semi-welded and all-welded plate heat exchangers.
OTHER TYPES OF PLATE EXCHANGERS